This has been an exciting year of transition here on the blog, for me personally, and for many readers in this community! I hope to get more into reflections on 2014 and goal setting for 2015 soon, but today, let's take a look back at the Best Money Saving Tips of 2014 both here on GrowingSlower and across the web! 
What a year it's been!
Our family officially became debt free in May. What a truly freeing feeling!
In August, I created the Grocery Savings Made Simple eCourse to share with other busy moms my simple method for saving money on groceries that helped us get out of debt. So far, it has reached over 1,200 students who have saved an average annual savings of $1,793!
The very best part of this busy year has been the privilege of connecting with many of you. Hearing the way you are working on getting out of debt and saving money towards some big financial goals inspires me to keep sharing simple money saving strategies here on GrowingSlower.
Since many of you are newer to the blog, (readership more than tripled in 2014!) I hope you'll enjoy this recap of the most popular money saving tips and encouragement from the past year.
Top 10 Best Money Saving Tips of 2014 from GrowingSlower
#1 97 Easy Ways to Save Money
#2 60+ Real Jobs for Stay at Home Moms
#3 How We Paid Off $22,047 in Less than 9 Months
#4 1 Simple Tip to Pay Off Debt Faster
#5 DIY Gifts You Can Make in Under an Hour
#6 18 Items You Forget to Put in Your Budget
#7 No Spend Month Challenge
#8 Where I Stand on the Envelope System
#9 Amazon Prime: Frugal or Foolish?
#10 Grocery Price List Free Printable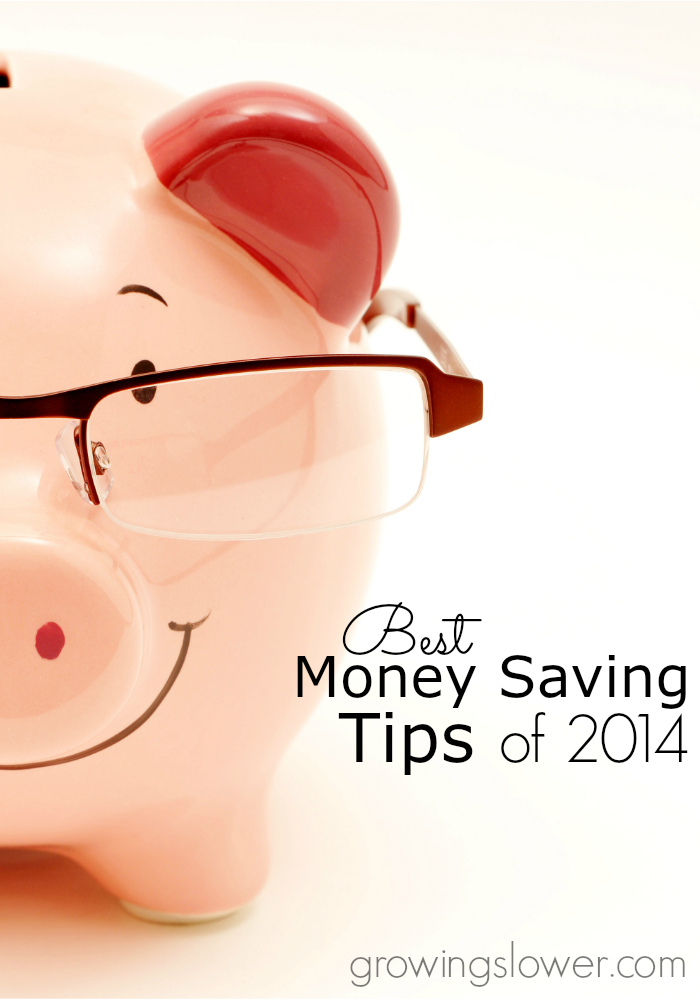 Now, check out even more money saving tips from my friends at the Alternative Living Network: A network of Christian bloggers choosing to go against the mainstream when it comes to our health, our food, and our finances, and encouraging others along the way. Plus, there are a few other of my favorite finance and money saving books and articles.
Best Money Saving Tips – 2014
Best Money Saving Tips for Groceries
Best Money Saving Tips for Household and Personal Care
Best Money Saving Tips for Shopping
Best Tips for your Finances
What are your best money saving tips from 2014? What new goals are you looking forward to reaching in 2015? Share your tips in the comments!